We carry a selection of Gourmet Ice Cream Cakes in a variety of flavors.  All cakes are 10" in diameter and Pre-Cut into 14 (5oz) Slices.
Oreo Cookie and Fudge Cake – Oreo cookie crust with oreo cookie gelato and fudge frosting with whipped cream rosettes. (Not pictured)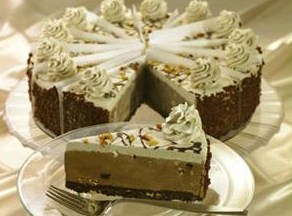 Mocha Mud – Oreo cookie crust blended with chocolate chips, filled with a layer of fudge, followed by Mocha Chip Gelato and topped with whipped mocha cream. For the finale, a chocolate drizzle with mocha rosettes.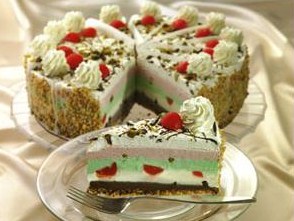 Spumoni – Strawberry Cream Gelato, Pistachio Gelato with pistachio nuts, Sweet Rum Gelato with maraschino cherries and Chocolate Gelato with chocolate chips… layered in a vanilla cookie crumb, coconut and almond crust, finished with a delicious whipped topping, generouslly sprinkled with chopped pistachio nuts, maraschino cherries and accented with creamy rosettes.
Brownie Torte – Vanilla Bean Gelato sandwiched between two delicious layers of brownies, topped with a rich chocolate fudge frosting and finished with fudge rosettes.